The first thing I did was log in to my Twitter account, which I rarely use, and began to remind myself of how Twitter actually even works! I looked at the Twitter Ed Chat calendar and wrote down some hashtags to begin my search. After finding four hash tags to search, I watched tweeted out a request to be added to the extend mOOC twitter list.
Taking a break from Twitter, I went back to the mOOC and watched "Beware Online Filter Bubbles" https://www.ted.com/talks/eli_pariser_beware_online_filter_bubbles
This video then made me rethink the list of hashtags I had written down and got me thinking a lot more about everything I do…beginning to experience somewhat of an existential crisis!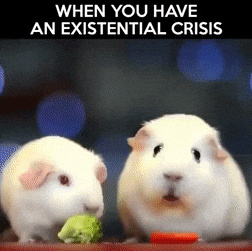 Ok…I'm back and going to focus on making sure that I don't get too stuck in a filter bubble. How I do that though is yet to be determined! I'm going to focus on extending my PLN and try to keep that thought in the back on my mind while doing so.
I decided to explore some of the previous extender's recommendations for how they expanded their PLN's and found Professor Danny Smith's blog post to be very helpful! He gives some Tips for Creating a PLN:
1. Find a faculty discussion group online,
2. Participate in Twitter discussions,
3. Join an Online Community, and
4. Find a Teaching Buddy
https://professordannysmith.com/who-are-you-plugged-into-pln/

I decided to start small and work my way up. I have a tendency to get excited about things and go too big right away…then I get overwhelmed (of course) and want to just throw in the towel. The faculty discussion group I decided to join was the Slack discussion channel for the Collaborator module for the Extend mOOC. I hadn't been accessing those for some reason so I thought I would give it a go!
Next, I started following @cdnedchat and created a "Moment" on Twitter called Ed Tech Newbie. I am not all that familiar with Twitter so I hope I am doing it in a way that helps me with my PLN!
Another recommendation was to find a teaching buddy which I believe I do on a regular basis. There are several faculty with offices around me that I collaborate on a regular basis! They aren't necessarily on line though so I'm hoping that through my using Twitter a bit more and using it in a more planful way, I will be able to connect with some more like minded faculty there! I'll have to post an update to let you know how it works out for me! Wish me luck!!